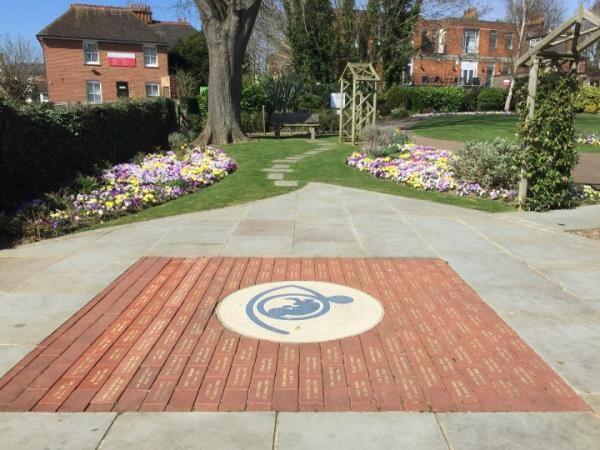 Ashford Baby Memorial Garden
The Ashford Baby Memorial Garden was opened in 2013 after local volunteers raised around £30,000.  It is unique being (as far as we know!) the only Baby Memorial Garden right in a town centre, fully accessible to everyone, and open every day of the year.  It is a lovely place to sit and remember our special babies, and somewhere that helps raise awareness of the fact that 14 babies a day are dying, with, on average, one baby dying every seven days in East Kent alone.
From 1 October 2020, the Garden will be managed by a separate charity, the East Kent Baby Memorial Gardens Group, (charity number 1190080) which is formed of the volunteers who created the Garden and managed it under Sands' umbrella.  The Garden will still be used for the annual Wave of Light event during Baby Loss Awareness Week in October and for the annual Teddy Bears Picnic in July each year. Nothing will change as the 'old' volunteers (Emma, Sam, Vicky, Charmaine, Chris and Chris) will instead be running the new charity. 
Name tiles recording a baby's name and special date will still be available through that new group for a one-off donation of just £40. The website (which will be launched on 1 October 2020) for the new Gardens group is http://www.EastKentBabyMemorialGardens.org.uk  and further details, and a link to order name tiles is on that site.
There are also a number of other baby gardens elsewhere in Kent.  Those we are aware of are the Making Miracles garden in Rochester, the Devlins Babies Garden in Folkestone, and the Tunbridge Wells Sands garden in the Tunbridge Wells Crematorium.  Many, but not all, crematoria also have special baby areas. Please contact them direct for further information.
There is also a new memorial area being set up at Thanet Crematorium.